Product Description
Permanent magnet pulley for transport belt head
Magnetic Pulley is available in various sizes to suit various requirements.
Product Description
Permanent magnet pulley is a easy replacement of drive pulleys . These magnetic pulley have magnetic power over entire or half circumference and ensure effective cleaning of magnetic contamination from material being discharged from conveyors.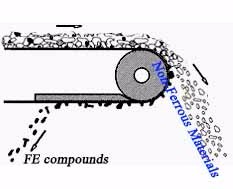 Magnetic Separation Pulleys are designed and manufactured for maximum reachout, holding force and separation effectiveness.There are two types of magnetic field to choose :
1.Deep Reach Rare Earth Field Pulleys are for the high volume recycling lines to make sure you get all the ferrous metals out of the deeper burden streams before the Eddy Current Separators Shredders. These units can be incorporated on the Grinder Feeder and Transfer Conveyors.
2.Low Reachout High Intensity Rare Earth Field Pulleys are designed for higher gauss super high intensity fields but with low reachout – low volume applications. These applications usually have a single layer stream of material on very thin belts for maximum separation. These units can be incorporated on Bunting stainless steel transfer/separation conveyors.
These economical Magnetic Separation Pulleys also can be used to replace your existing head pulleys to turn your material handling conveyor into a material separation conveyor. These pulleys can be provided with the same shaft as your existing conveyor has.
and by the way ,Magnetic Separation Pulleys are even more effective when used in combination with overheadMagnetic Crossbelt Conveyors on thicker burdens or more dense conveyed materials.
Application for These economical Magnetic Separation Pulleys:
Magnetic Separation Head Pulleys continuously remove and discharge tramp metal from the product flow for both product purification and materials separation.
These pulleys offer superior removal of ferrous contamination such as nails, spikes, nuts, bolts, cans, and wire for conveyors in the paper, wood, plastic, steel, fire and municipal recycling industries with maintenance free operation. They can also be used for continual separation of ferrous from non-ferrous steels in scrap metal recovery separation for metal stamping facilities.
Specifications for Pulley Magnetic Separation::
Packaging & Shipping
1.Packing:Export packing
2.Shipping time: 40 days after receive the deposit
In order to give you the responsible quotation, pls kindly inform us the following details:
1. What kind of material you are going to deal with?
2.What's the size of the materials?
3. What's the producing capacity you are going to achieve?
As a professional magnetic equipment manufactures,our company is not only good at magnetic separation equipments,such as:
1.eddy current nonferrous metal magnetic separator
2.permanent and electric magnetic separator
3.wet and dry type magnetic separator
4.Permanent magnet and electromagnetic lifting equipment
5.magnetic drum
6.chute magnetic separator
7.magnetic sweeper
8.magnetic cartridges(rods or tubes)
but also good at nomal transport device,such as:
1.Belt conveyor
2.trommel drum screen
3.vibrating feeder
and air classifier can also be provided
we can design and manufacture complete eddy current conveyor systems or simply furnish eddy current drums or any other piece of magnetic separation equipment to meet your requirements.
Please Contact Miss Jasmine Song :
Email: jsyy@sino-magnets .com.cn
Mobile: (86)15242300557
WhatsApp: (86)15242300557
Skype: luckjasmine86
Wechat: (86)15242300557
Price Terms︰ FOB/CNF/CIF Dalian
Payment Terms︰ TT/LC/Western Union
Packing︰ ordinary exporting package for pulley magnet
Lead Time︰ shipped within 30days after get the deposit
Product Image